From the first Covid -19 case in Belize March 2020, to over 50 days without a case, to wide spread community spread because of land boarders Belize's tourism industry is now open to international travelers, new travel norms and guidelines have been put in place for the accommodation sector. The Belize Tourism Board's priority in the safety of both visitors and community is of utmost importance, which is why new operating protocols for hotels, restaurants, tour operators and tourist sites are provided. These guidelines were approved by the Minister of Tourism and Civil Aviation, and serve as the foundation for addressing the new health and safety challenges presented by Covid-19.
In addition, the BTB implemented the "Tourism Gold Standard Recognition Program." This program focuses on enhancing the hotel and restaurant cleaning practices, social interactions, workplace policies, and standard operating procedures, while ensuring minimal impact on the guest experience. For more information on this 9-point program and on the new policies, kindly see the Belize Tourism Boards website.
This initiative represents a new level of commitment to the tourism industry for the continued establishment, implementation and enforcement of standards that will protect both staff and guests, doing so in accordance with national and international guidance issued by public health authorities including Belize's Ministry of Health, the Centers for Disease Control and Prevention (CDC), Occupational Safety and Health Administration (OSHA), American Hotel and Lodging Association (AHLA), Caribbean Public Health Agency (CARPHA) and the World Health Organization (WHO). The guidelines presented represent best practices for the industry upon reopening, and it is anticipated that measures will evolve based on the progression of the virus and recommendations of public health authorities, in compliance with the Laws of Belize. Naia Resort and Spa was one of the first Resorts certified by the BTB. For Travel requirement summary also see diagram below: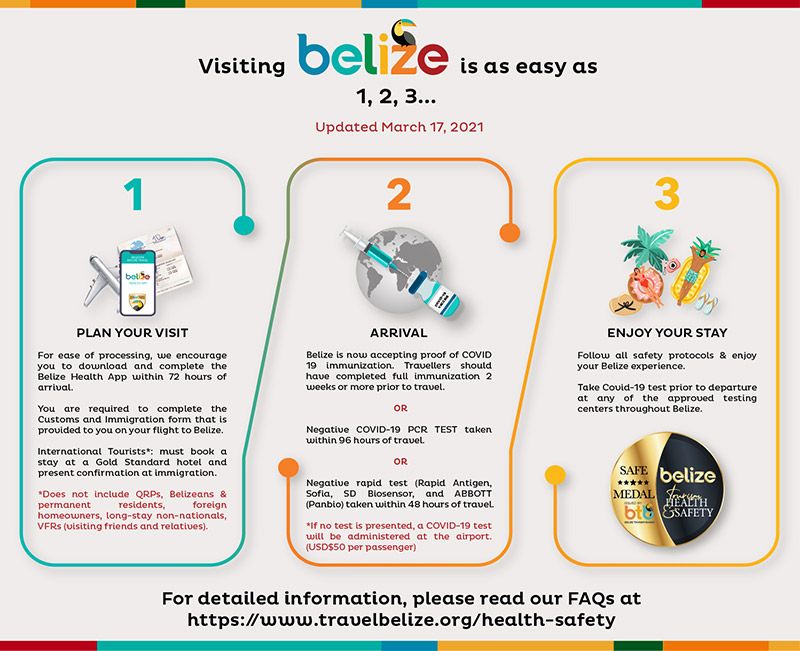 Visit our COVID-19 page for more information on our health and safety protocols at the resort.