The holidays are upon us, a time of the year filled with joyous caroling, glittering decorations, food fit for kings and queens, and, most importantly, family. This festive season is for everyone to come together from far and near, reconnect, reminisce on the past, and build new memories to bring into the coming year. A Christmas holiday vacation in Belize at Naia Resort and Spa will let you achieve all this and so much more. We have activities and amenities that everyone in the family can enjoy, both separately and together.
Naia Resort and Spa is located in the beautiful Placencia Peninsula in southern Belize. A Christmas in Placencia is guaranteed to be a true getaway, with palm-tree-lined beaches bordering the crystal-clear blue waters of the Caribbean Sea. All accommodations at Naia are carefully constructed, fully embracing these breathtaking sceneries surrounding the resort. We also strive to incorporate modern amenities to suit all your and your family's needs. Each room is superbly designed, with custom, locally made furniture and decorations. You will be able to lounge around in bed on our 100% cotton Matouk sheets while still taking in the smell of salty sea air and the sounds of waves crashing into the shoreline just beyond your room.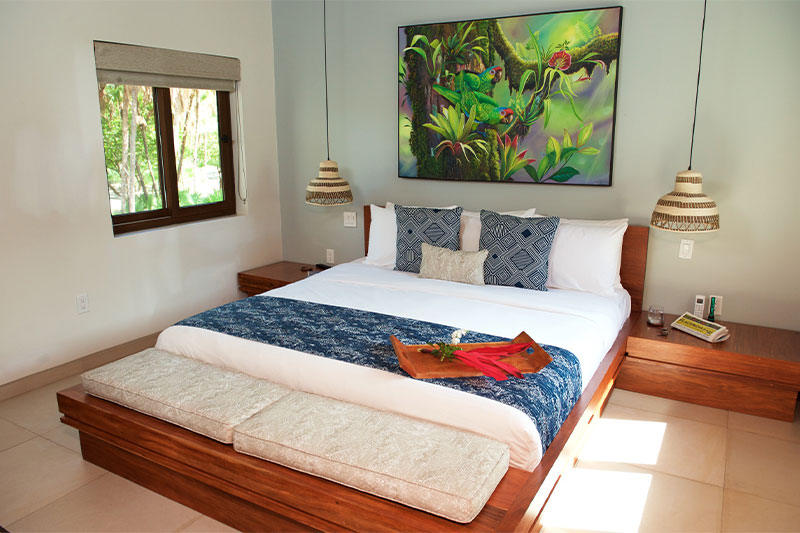 Being a resort and spa, Naia has offerings for those in your family who would prefer merely to relax and unwind. Your Belize holiday vacation can be filled with luxurious self-care, where anyone can let go of the past year and embrace the coming one. Our reimagined spa experience has the natural wonders of the peninsula and the unique cultural traditions of Belize, combining them with the relaxing amenities you can expect from a world-class resort and spa. There are many spa options to enjoy alone or with others. You can loosen up those tense muscles with a massage from one of our highly trained and skilled massage therapists. Brighten your glow with a soothing Vitamin Sea Facial or rejuvenating Maya Cacao and Spice Wrap. Focus on your inner radiance with yoga or Pilates while overlooking the tranquil waters of the lagoon. You can even push yourself in our fully equipped gym, working up a sweat and burning off those Christmas calories.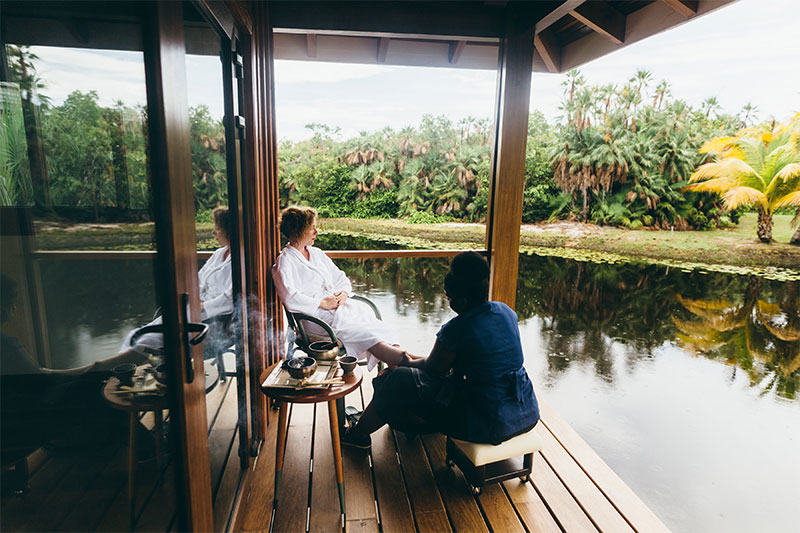 A Christmas holiday in Belize can also be filled with adventure, a great way to bring the family together and create new memories to last a lifetime. As with our relaxing offerings, there is sure to be something for everyone, from the mild adventurers to the thrill-seekers. With our various vacation packages and tours, you can enjoy some of the best of Belize. You can zip over the rainforest canopy, kayak alongside manatees in the lagoon, trek amongst ancient Maya ruins, observe flora and fauna in their natural habits. Take a peak, or submerge yourself in the underwater ecosystems of the deep blue, sail the high seas, or take a journey through chocolate making and spice cultivation. The possibilities are endless.
What would the holidays be without good food, and at our signature 1981 Restaurant you are sure to enjoy a feast. Our yearly Christmas dinner is the perfect time to gather with family, friends, both old and new, and indulge in our delicious holiday foods, with all the trimmings, of course.
Christmastime is one of the most festive times of the year, bringing families together for joyful celebrations. There is no better place to experience this joy than with a Christmas in Belize. At Naia Resort and Spa, we will be happy to be a part of your holiday season. Book a Christmas in Placencia with us, and let us help your family not only share in memories of old but create new memories too. Memories only a holiday vacation in Belize can provide.