During the December holiday, everyone runs around buying gifts, decorating their homes, cooking a feast, or preparing to reunite and reconnect with friends and family. The entire season is so jam-packed that many may need a vacation from their vacation when most want to simply ease their way out of one year and into the next.
Naia Resort and Spa in Belize is the perfect destination for a post-vacation vacation, even if you are looking for adventure and not relaxation alone.
The tropical weather in Belize makes January the ideal time to visit, with warm and sunny days and refreshing and cool nights. The average temperature reaches around 80°F, and the humidity is relatively low, making it a comfortable time to explore the country. Although an occasional cold front might bring rain and a slight drop in temperature, they seldom affect travel plans as there is still an abundance of sunshine for plenty of fun in the sun.
Our luxurious retreat offers a wealth of adventures for visitors to enjoy. Whether you're looking to explore the lush jungle, dive into crystal-clear waters, or immerse yourself in Belize's rich culture and history, Naia has something for everyone.
One of the most popular activities at Naia is exploring the Belize jungles and its diverse wildlife. Guests can embark on a guided hike through the tropical forest and discover a variety of exotic plants and animals, including the acrobatic Howler Monkeys, the vibrantly colored keel-billed toucans, and even pumas. Experience an adventure by hiking through the jungles of the Bocawina/Mayflower National Park to Antelope Falls. Take in the stunning scenery as you rappel down the waterfalls, feeling the cool water splash against your skin.
Explore the world's first internationally recognized jaguar reserve, Cockscomb Basin Wildlife Sanctuary. This absolute must-visit is home to the elusive and majestic jaguar and offers guests the chance to glimpse these magnificent creatures in their natural habitat. Horseback riding and zip-lining are also thrilling options to discover the diverse wildlife of Belize.
For water aficionados, the resort offers a variety of snorkeling, fishing, and diving excursions in the crystal-clear waters of the Caribbean Sea. From shallow reefs teeming with colorful fish and corals to miniature atolls, there is something for everyone to explore. You can also enjoy a sunset sail on a catamaran on the pristine barrier reef.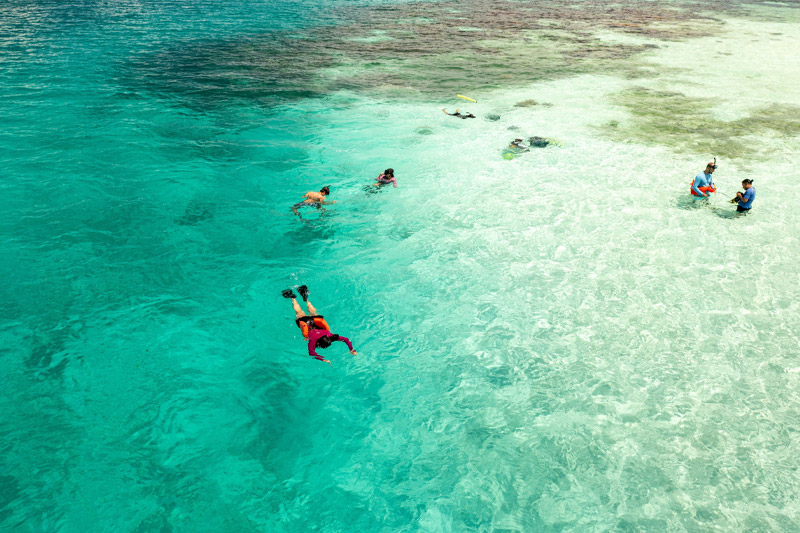 For those wanting more history and culture, Naia offers tours that take visitors to ancient Mayan Ruins like Xunantunich, allowing you to get a glimpse of what life may have been like thousands of years ago for the indigenous Maya of Belize.
The Che'il Chocolate Experience is also an exciting cultural tour where you will learn about the traditional Maya chocolate-making process. For spice lovers, the Nimli Punit & Spice Farm Tour is an excellent option, where guests can get their hands on spices such as vanilla, black pepper, allspice, nutmeg, and much more.
And best of all, all activities that can be done in January can be done in February, too, with one uniquely lovable exception… Valentine's Day.
Valentine's Day is the perfect time to visit Naia Resort, as the resort offers a variety of romantic packages and activities for couples. You can book a private villa with a plunge pool and butler service for a truly luxurious and romantic experience. The resort's secluded location and natural beauty make it the perfect place to spend a romantic holiday with your loved one. You can easily experience romantic nirvana by choosing one of our Belize All-Inclusive packages, such as our Ring in Romance & Relaxation Package.
Couples' massages, romantic candlelit dinners, and sunset cruises are all available. You can also take a private boat tour to secluded islands, where you could enjoy a picnic on the beach and delight in the alluring sunset together. River tubing, zip-lining, hiking, snorkeling, and diving are splendid date ideas for the adventurous couple.
Whether you are looking for adventure, romance, or a combination of both, Naia Resort and Spa is the perfect destination for a memorable and enjoyable vacation with its prime location, top-notch amenities, and wide range of activities, especially this time of year. Take advantage of this; book your trip now!