Naia Resort and Spa in Placencia, Belize, is a hidden gem that offers the perfect mix of relaxation, adventure, and luxury. Whether you're a foodie, an adventure seeker, or simply looking for a place to unwind, Naia has got you covered. Every time you stay with us, you get to try something new, thanks to our unique menu options, exciting activities, and unbeatable ways to relax.
We take pride in offering a diverse range of Belizean-inspired cuisine that celebrates the country's rich culture and history. Every meal at Naia is a culinary adventure, from fresh seafood to locally sourced produce. One of the best places to start is the Beach Bar and Grill, where you can sip on tropical cocktails while enjoying the stunning views of the Caribbean Sea. Our signature 1981 Restaurant provides an impressive wine selection and a more upscale dining experience.
One of the highlights of our menus is the vegan options, which are equally mouthwatering as the non-vegan dishes. Naia's Veggie Burger is a delicious and hearty plant-based option that will satisfy even the most discerning burger connoisseur. It is crafted with a blend of protein-rich chickpeas and black beans, sautéed mushrooms, and earthy beets, all mixed together with gluten-free flour. Cumin, onions, and garlic are used in the seasoning, which infuses the patty with a bold and savory flavor. The dish is served with plantain, cassava, and corn chips, adding a slightly sweet and tropical taste, satisfying texture, and savory notes. Our Veggie Burger is excellent for those looking for a plant-based meal packed with protein and flavor.
For the meat lovers you definitely want to try our Mango and Ginger BBQ Pork Ribs. This smoky and savory slow-roasted pork ribs, grilled to perfection and glazed with a homemade BBQ sauce, served with a smoothly pureed coco and roasted vegetables, is sure to send your taste buds into a state of blissful delight. As you take your first bite, the tender and juicy pork ribs with its flavorful mango and ginger ingredients will explode with a burst of sweet and tangy flavors in your mouth, leaving you craving for more.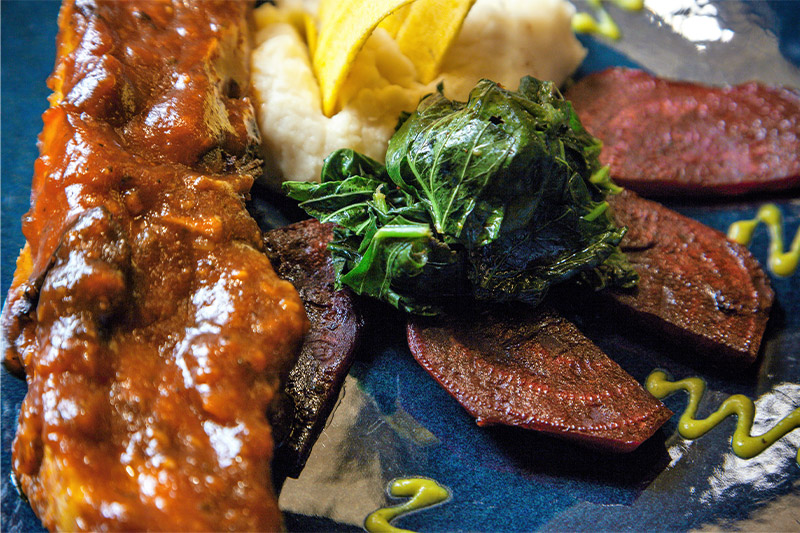 When you start feeling adventurous, there are several exciting activities to discover. Activities range from paddleboarding to snorkeling, ziplining to hiking, and even sunset cruising. Our popular Kayaking and Wildlife Watch Tour is an unforgettable adventure that combines exploration, relaxation, and natural beauty. Navigate through the tranquil lagoon waters and witness the abundance of wildlife surrounding you, including colorful birds, playful dolphins, and graceful manatees. This skillfully guided tour is perfect for nature lovers and those seeking a peaceful escape. 
After a day of adventure, guests at Naia can indulge in a pampering experience at one of the best spas in Belize. The spa offers various treatments that combine traditional and modern healing techniques to provide a holistic experience for the mind, body, and spirit. Try a signature Naia massage that uses locally sourced herbs and oils to soothe sore muscles and promote relaxation.
Our fitness center has state-of-the-art equipment, from cardio to weight training equipment, for those who prefer a more active approach to relaxation. There is a pool and beach for those who like to relax by the water. Lounge by the pool with a good book or take a dip in the crystal-clear water to refresh and recharge.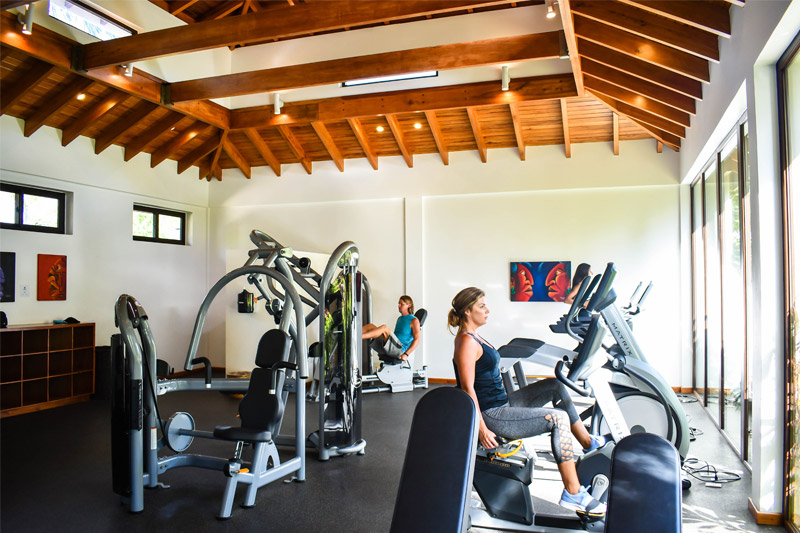 The relaxing experience at Naia extends beyond the treatments or the activities themselves. The serene and calming atmosphere of the resort enhances the overall experience. The resort's unique design blends seamlessly with the natural surroundings, creating a harmonious atmosphere that allows guests to connect with nature and experience a sense of calm. From the lush gardens to the pristine beachfront, every aspect of Naia is designed to provide guests with a peaceful and rejuvenating retreat.
Whether you're seeking adventure, relaxation, or a bit of both, Naia offers the perfect getaway. Book your stay with us today and escape to the beautiful country of Belize. Your next unforgettable adventure awaits at Naia Resort and Spa.