Imagine a destination where time seems to stretch its arms, and the burdens of the world effortlessly melt away to the rhythm of the ebbing waves. Tucked away in Placencia, Belize, Naia Resort and Spa is an exquisite treasure that stands ready for those searching for an incomparable beachfront getaway. We pride ourselves in being an oasis of serenity where the concept of barefoot luxury evolves into something entirely extraordinary. Continue reading and embark on a virtual voyage to the secluded shores of Naia's private beach—a sanctuary where tranquility has truly been perfected.
A Serene Oasis in Belize
Belize, known for its breathtaking landscapes and vibrant marine life, sets the backdrop for Naia's private beach resort. This secluded haven is more than just a destination; it's an experience that reconnects you with nature and redefines luxury. As you step onto the powdery sands of Naia's beach, a sense of calm washes over you, inviting you to leave your worries behind and embrace the present moment.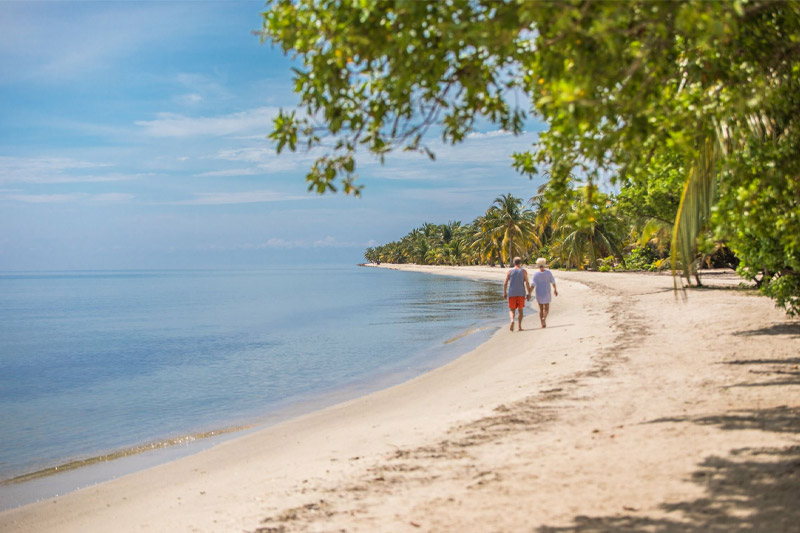 Embracing Nature's Beauty
Our private beach is a tapestry woven with natural beauty. Palm trees sway in the gentle breeze, casting dappled shadows on the sand. The crystal-clear waters of the Caribbean Sea stretch out before you, offering a mesmerizing palette of blues that blend seamlessly with the horizon. This beachfront paradise is a canvas where you can paint your own experiences—whether you're seeking adventure or relaxation.
Unparalleled Beachfront Amenities and Activities
At Naia, we go beyond the ordinary, curating a range of beachfront amenities that elevate your stay to a new level. Imagine unwinding in a private beach house, where the only decision you need to make is whether to indulge in a captivating novel or simply close your eyes and listen to the waves. Our commitment to your well-being is evident in every detail, from the plush loungers to the attentive staff anticipating your every need.
Naia offers a world of water sports and exploration for those seeking adventure. Snorkel through vibrant schools of fish, kayak along the coastline, or embark on a paddleboarding journey as the sun sets in a radiant blaze of color. The deep-water realm, teeming with life, offers an opportunity to witness marine creatures like manatees, dolphins, and sea turtles in their natural habitat. Whether you're an experienced water enthusiast or a beginner, Naia offers activities catering to all skill levels.
A Commitment to Serenity
Every aspect of Naia Resort and Spa is a testament to a serene escape's beauty. The resort's thoughtful design seamlessly blends with its natural surroundings, guiding guests toward a state of inner peace. Committed to sustainability, Naia's eco-friendly practices preserve the environment, fostering a connection with nature that enhances the overall sense of oneness. Through a range of wellness services, including beachfront spa treatments, yoga, and meditation, Naia ensures holistic well-being, making every moment of your stay a step towards relaxation and rejuvenation. In a world of chaos, Naia stands as a serene escape where guests can rediscover their inner calm and embrace a profound sense of renewal.
Don't wait to bask in the serenity of Naia's private beach, where a world filled with constant motion becomes a sanctuary of stillness. Naia Resort and Spa is your invitation to escape the ordinary and embrace a realm where barefoot luxury is redefined. This is your chance to embrace simplicity, relaxation, and a connection to nature. Book now and let Naia's private beach unveil a new sense of peace in Placencia, Belize.